TAA Member list

32nd Taiwan International Hi-End Audio Show

The 32nd TAA International Hi-End Show is scheduled to hold at The Grand Hotel, Taipei on August 18th to 21st, 2022.

Various brands on Hi-End/Hi-Fi audiophile and related hardware/software accessories to display. There are over a hundred of show rooms & function rooms in four floors, featuring stereophile Hi-End/Hi-Fi system, surround audio system, digital video (LCD/LED TV, projector), digital audio (DA converter, clock master), home audio components and accessories, cables, DIY kits, Car Audio , audio/video softwares and magazines.

No matter whether you are an audiophile enthusiast, music lover or industry professionals, you will be enjoyed at the show.

Show Information
Date:
August 18 - 21, 2022
Hours:

10:00 - 18:00 (10AM - 6PM)
Venue:

The Grand Hotel, Taipei


Address:

No.1, Section 4, Zhongshan North
Road, Zhongshan District, Taipei City 104427, Taiwan
TEL :

886-2-2886-8888
FAX :

886-2-2885-2885
Admission fee:

NTD 300 for domestic visitor
Pre-Ticketing:

NTD 200 (From 5/1 to 08/15, On-line pre-ticket in official website )​
The ticket comes with complementary copy of commemorative collection CD, by first come first served.

​

Please phone for further details or refer to web page on Chinese version.
Words from TAA chairman about 2022 TAA Hi-End
Audio Show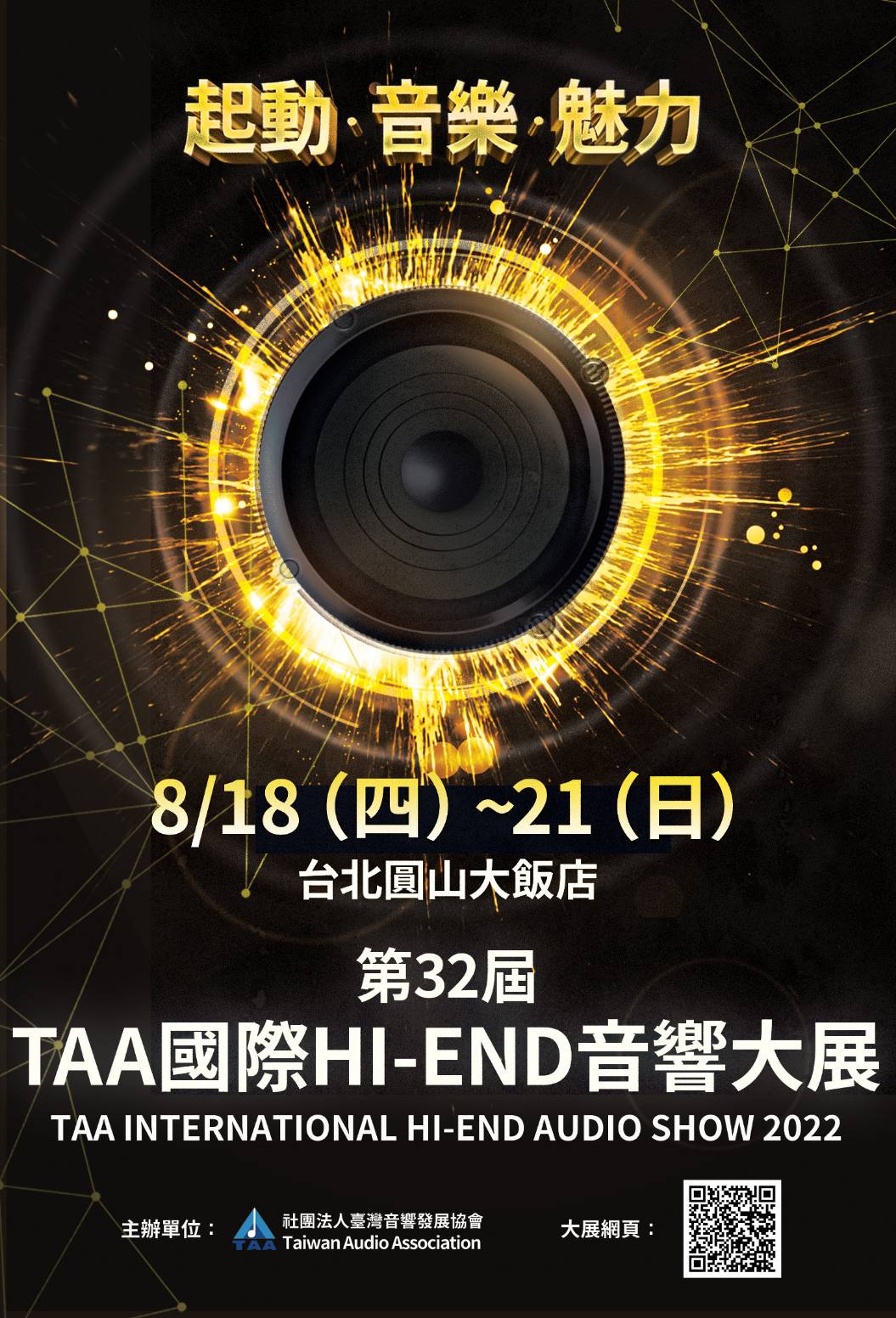 You are cordially invited to join us
Experience the vibrance of music and audio together
Dear Sir/Madam,

On behalf of the Taiwan Audio Association, it is with great pleasure to invite you to our TAA INTERNATIONAL HI_END AUDIO SHOW 2022 that will be held on 18th to 21st of August 2022. This exciting annual event would be host at Grand Hotel Taipei.

Besides the finest music being played, meeting old friends and experience Hi-End audio from around the world would be the highlight of this 32 years old annual audio event.

Laughter and great gatherings are guaranteed. Please join us and we look forward to your presence on our biggest annual fun festival.

Yours Sincerely,

Vincent Chang
Chairman
Taiwan Audio Association